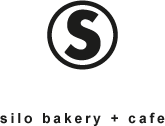 "…part Brooklyn, part wartime Parisian bakery…"
NY Times
"…no question that this is the best bakery in Canberra or anywhere within cooee…"
SMH Good Food Guide
contact us
36 giles street kingston  2604
t  (02) 6260 6060
e  silokingston@gmail.com
orders
orders taken by phone or email, we are happy to discuss your preferences and any requirements you may have.
orders can be made up to the day prior to collection.
opening hours
tuesday to saturday 7am to 4pm.
breakfast: 7am-11:30pm
lunch: 12pm-2:30pm tuesday-friday; 12pm-3pm saturday
bookings can be made tuesday to friday for the lunch à la carte menu.
no bookings taken for breakfast.
an exciting, new menu awaits you
our chef has gone to great lengths to bring to the table some wonderful dishes with a mediterranean feel…..layers of pasta filled with blue swimmer crab and tamarind broth is just one of many lunch time meals you can enjoy.  come in and enjoy!
silo sources locally produced ingredients from local farmers to provide excellence in their in-house pastries, breads, tarts and à la menu.
we are open for business
after much hard work we are back to our regular business trading hours.  come in and say hello, you have been missed!