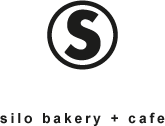 "…part Brooklyn, part wartime Parisian bakery…"
NY Times
"…no question that this is the best bakery in Canberra or anywhere within cooee…"
SMH Good Food Guide
contact us
36 giles street kingston  2604
t  (02) 6260 6060
e  silokingston@gmail.com
orders
orders taken by phone or email, we are happy to discuss your preferences and any requirements you may have.
orders can be made up to the day prior to collection.
opening hours
tuesday to saturday 7am to 4pm.
breakfast: 7am-11:30pm
lunch: 12pm-2:30pm tuesday-friday; 12pm-3pm saturday
bookings can be made tuesday to friday for the lunch à la carte menu.
no bookings taken for breakfast.
we will be closed until further notice
it is with a heavy heart that we say this, but in all good conscience we cannot allow silo to trade and put everyone at risk.  the uncertainty of the coming days means that we need to ensure that we all stay isolated and safe.  we will TEMPORARILY CLOSE for business as of Wednesday 25 March 2020.
please refer to our website, facebook and instagram for updates.
silo sources locally produced ingredients from local farmers to provide excellence in their in-house pastries, breads, tarts and à la menu.